ABOUT WAIHI BEACH
Waihi Beach is a gorgeous nine kilometre long beach in the Bay of Plenty, New Zealand. We are just 2 hours from Auckland, 1.5 hours from Hamilton and 45 minutes from Tauranga.
Other than the beach itself, the many cafes and selection of boutique shops, there is a variety of walks in the area outlined below.
WAIHI BEACH WALKS
Orokawa Bay
With spectacular views of the Pacific Ocean and Waihi Beach, a walk to Orokawa Bay is a treat. With beautiful pohutukawa trees leaning right over a beach of sparkling white sand, the bay has to be one of the scenic jewels in the Bay of Plenty area. Orokawa Bay offers great fishing, picnicking, bush walking and surfing opportunities.Orokawa Bay and domain is designated scenic reserve and comprises 145 hectares of native bush, including kauri.
Access to Orokawa Bay is by an easy track at the northern end of Waihi Beach, past Oukori Bay then down to Orokawa Bay. Walkers should allow 45 minutes to reach this secluded beach.
William Wright Falls
The bush track to the William Wright Falls begins at the northern end of Orokawa beach with marker posts showing the way into the interior. The going is rather tough and the waterfall is approximately 1.5kms into the bush. It would be advisable, if doing a day trip, to take a picnic lunch as the track is a good one-and-a-half hour walk.
The falls spill over a sheer rock face some 28 metres above the pool, dropping in two stages to the valley floor, framed by almost vertical forested hillside. Take your camera. The pool at the bottom of the falls has been dammed up and is about a metre deep.
Along the track leading to the waterfall is a large concentration of glow worms, best viewed at night.
Homunga Bay
Homunga Bay is another beautiful bay further north along the coast. Orokawa Bay and Homunga Bay are two parts of a scenic reserve that is linked by a coastal walkway.
As with Orokawa Bay, Homunga Bay is notable for dense pohutukawa forest.
It can be reached by a track from the northern end of Orokawa Bay. This track is well developed and maintained providing spectacular views and interesting terrain. Caution, good footwear and a day pack are essential.
Another option for this walk is to start at Ngatitiangata Road (above Homunga Bay) and walk down the coast to exit at Waihi Beach. You will need transport to drop you off at the beginning of the track.
Walking Times
Waihi Beach ­­– Orokawa Bay 45 mins
Orokawa Bay – William Wright Falls 1.5 hrs
Orokawa Bay – Homunga Bay 1.5 hrs
HAURAKI RAIL TRAIL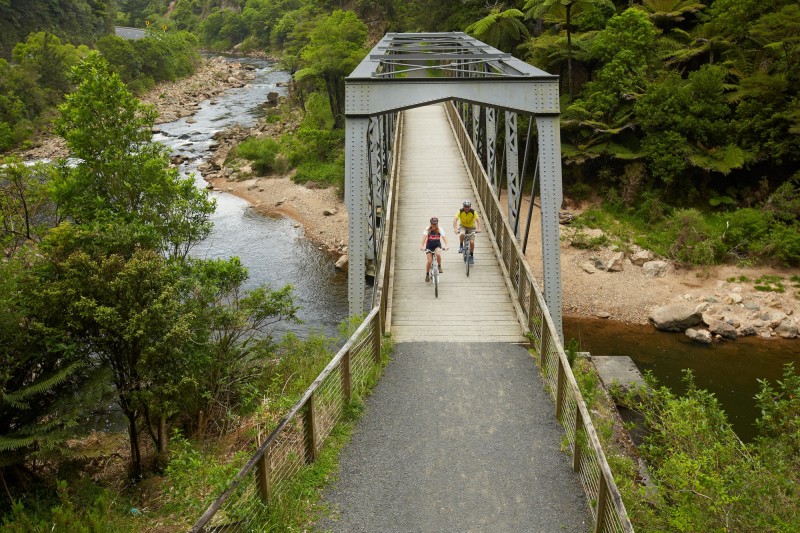 The Hauraki Rail Trail is a scenic bike ride suitable for all fitness levels. The ride can be accessed from Waihi, Paeroa, Thames or Te Aroha. Avid cyclists can complete the whole trail in two days or if you prefer then you can just do leisurely, shorter trips.
Fast Facts
Five trail legs
• Thames to Kopu – 6kms
• Kopu to Paeroa – 27kms
• Paeroa to Waikino (14kms) to Waihi (8kms) – 22kms in total
• Paeroa to Te Aroha – 20kms
The Hauraki Rail Trail is Grade 1, the easiest grade suitable for wheelchairs and pushchairs. However some sections are restricted for wheelchairs and recumbent bikes due to barriers. Contact Hauraki Rail Trail for other options.
Toilets are provided along the Trail.
Please bring rubbish bags and take all rubbish with you as no bins are provided.For further information regarding bike hire, transport, accommodation, baggage transfers, itinerary suggestions and trail details contact:
Hauraki Rail Trail Ltd
Phone: 07 219 3233 or 09 215 3982
Web: www.haurakirailtrail.co.nz
Email: info@hrtrail.co.nz